Having a dog in your family can certainly be a lot of fun. Many of us also appreciate having a dog because they provide us with an ongoing supply of unconditional love. That being said, dogs can also find their way into some mischief every once in a while but they are so adorable, it is difficult to stay angry for any length of time. This isn't only because of the way that they love us, it is because of the way that they make some of the most dramatic apologies that we have ever seen.
If there's one thing that people enjoy sharing online, it's a good video about something that their dog did, either right or wrong. It doesn't take much looking for you to find hundreds, if not thousands of these videos on almost any dog related subject you can possibly imagine. One of the more popular types of dog videos has to do with the way that they apologize and Leah Delerme is certainly familiar with the power of those clips. She posted a video that went viral a few years ago and it is one of the most adorable videos we have seen.
I'd like to introduce you to an innocent looking dog, and his name is Miller. Like many dogs, he is looking for an opportunity to get some delicious food and it seems as if he got some off of the kitchen counter. His owner continues to ask him he took the food but he is doing his best to avoid eye contact. Eventually, he breaks down and comes over to apologize with a huge grin on his face. It seems as if he was trying to apologize without looking overly guilty.
His mother was accustomed to his expressions so she knew that something was up right away.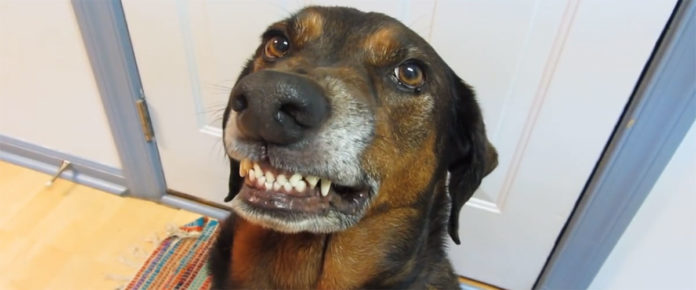 In the end, Leah knows that Miller is guilty and she even pronounces him as such. One thing is certain, you will love the way this dog reacts and probably find yourself watching this video, over and over again: