It's been many decades since the world was enthralled by a precocious little girl blonde girl with gorgeous curls and the cutest dimples you've ever seen. We're talking, of course, about the legendary Hollywood child star Shirley Temple, who achieved more in her brief and brilliant career than most in her profession achieved in a lifetime. From 1935 to 1938, Shirley was the star of many treasured films, such as Heidi and Curley Top.
However, Shirley's Hollywood career was only the first act in what was an incredible story. She would become a successful businesswoman, an American diplomat, and mother of three beautiful children. Sadly, in 2014, the world mourned the passing of this inspirational icon when she passed away at age 85 from chronic obstructive pulmonary disease.
Shirley Temple meant so much to millions of people worldwide, but in the end, she spent her final hours in her California home surrounded by her loving family. And in 2018, fans from all over gathered together to celebrate what would have been Shirley's 90th birthday.
To help mark the occasion, her children also decided to share some incredible insight into the private life of America's little sweetheart, including what she was like as a mom.
At the age of three, Shirley began her career in Hollywood. As her popularity waned when she became a teen, at age 22, she decided to retire from acting. However, she did return to her first love eight years later.
Aside from acting, Shirley served as the United States ambassador to Czechoslovakia and Ghana and was a passionate activist.
Shirley also served America as the Chief of Protocol of the United States.
She married twice and gave birth to three children, Linda Susan Agar, Lori Black, and Charles Alden Black Jr.
In the late 1980s, Lori, her daughter from Shirley's daughter from her second marriage, became addicted to heroin.
Lori Black also had a career in entertainment as a musician playing bass for the "Melvins," and "Clown Alley." When she was 39, Lori was arrested and convicted of drug possession. The judge sentenced her to pay a fine, serve two years probation, and complete 120 community service hours. The judge also compelled Lori to attend drug rehab.
Shirley was the driving force behind helping Lori get clean, bringing the entire family together for Lori's treatment sessions so she wouldn't feel alone.
To commemorate what would have been Shirley Temple's 90th birthday, her son Charles Black spoke a bit about what it was like growing up with the icon as his mother.

Shirley's daughter Linda also shared her fond memories, saying: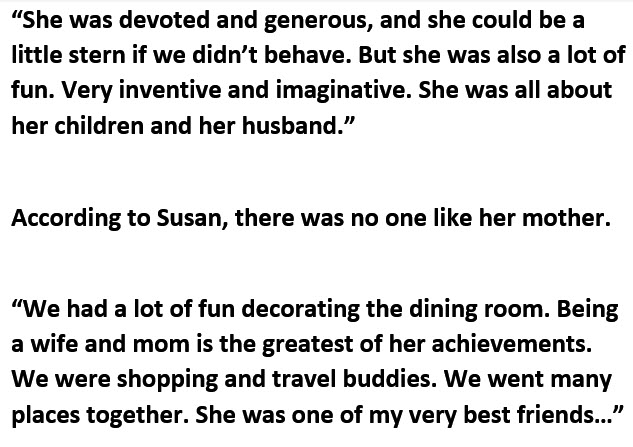 You can also watch a video with more about this heartwarming story below.
Are you a Shirley Temple fan? If so, please be sure to pass this remarkable story along to your friends and family.