There may be times when an older person is unable to care for themselves and the family can't provide the type of care that they need. When that is the case, we may consider the possibility of putting them in a nursing home. It is not an easy decision and to be certain, it is not a comfortable conversation to have with any parent but sometimes, we just need to feel as if they are in a safe and comforting environment where all of their needs are being met.
I'll be the first one to admit that many nursing homes are good to the seniors who live within their walls. Nothing is going to run perfectly but when the nursing staff works along with the patients individually and are caring, compassionate individuals, it can really Make a Difference in Their Lives. The reality for many seniors, however, is that they are not living in such an environment. That becomes obvious when one woman shares information about what she saw in a nursing home.
When this woman posted the picture to Facebook, it went absolutely viral. It wasn't because people were loving what they were seeing, it's because they hated what they were seeing. What was posted is a picture of what her grandmother, 79-year-old Mary Thompson was receiving at the Claremont Parkway in Kettering, Northamptonshire, England. It looked as if she was getting a handful of frozen chips and a slice of ham. She was in the nursing home to recover from an operation.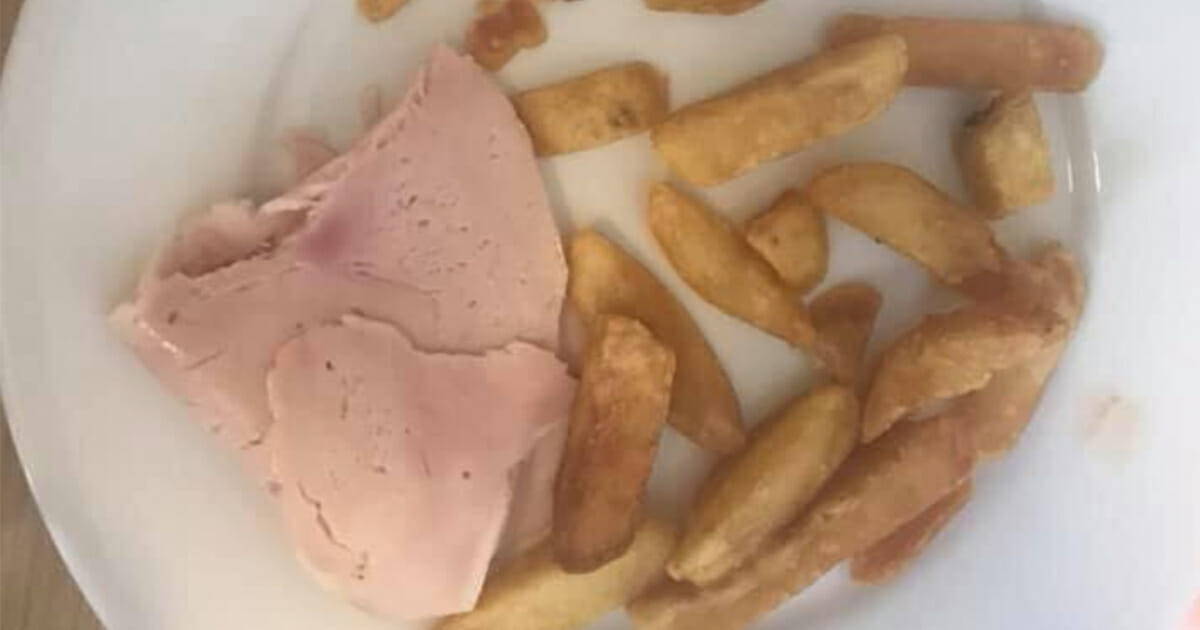 When her granddaughter, Elisha went on Facebook to describe her irritation at this meal, stating that the home should be "ashamed of themselves."
It didn't take long before the message started spreading across the Internet like wildfire. The post has been shared more than 60,000 times and people in the comments are fuming over what was done to this poor woman.
The post reads: "This is my Grandma's dinner from Claremont care home In Kettering!!
"Absolutely disgraceful! They should be ashamed of themselves! How are the old and vulnerable meant to survive and get stronger!
"Everyone needs to be fully aware of how our loved ones are being treated!
"I wouldn't feed that to my dog."
The Sun, a British Newspaper said that Mary Thompson told them she wanted him, eggs and chips for dinner. She was given a plate of ham, chips and beans but returned it when she said she couldn't eat beans.
Mary's daughter, Diane said: "They were obviously frozen chips and they'd been re-heated. There was no potato in them – they were just shells.
"We asked where the egg was and were told they'd run out – yet there's a Tesco just over the road.
"I told staff the meal was disgusting, there was no way my mum was going to eat, so they took the plate away and returned again – this time with just a pile of chips.
"I asked where the ham had gone and was told 'it's just sandwich ham, she won't want that anyway."
We should never forget those who are elderly and they should never have to endure something like this when they are supposed to be receiving special care. We hope that the nursing care staff learned a lesson and is providing proper dinners.